Lumigenex (Suzhou) Co., Ltd
favorite supplier

verified

Ordinary Member
Lumigenex (Suzhou) Co., Ltd

favorite supplier

AMH Quantitative Test Kit

FOB Price : Get Latest Price

Min.Order : 1000Piece(s)

Payment Terms : T/T

contact now

Time Resolved Fluorescence Immunochromatographic Analyzer

FOB Price : Get Latest Price

Min.Order : 1Set(s)

Payment Terms : T/T

contact now

PocRoc SARS-CoV-2 Antigen Rapid Test Kit (TRFIA)

FOB Price : Get Latest Price

Min.Order : 1000 Piece(s)

Payment Terms : T/T,EXW

AMH Quantitative Test Kit

FOB Price : Get Latest Price

Min.Order : 1000 Piece(s)

Payment Terms : T/T

HCG Quantitative Test Kit

FOB Price : Get Latest Price

Min.Order : 1000 Piece(s)

Payment Terms : T/T

CRP Quantitative Diagnostic Kit

FOB Price : Get Latest Price

Min.Order : 1000 Piece(s)

Payment Terms : T/T

PCT Quantitative Diagnostic Kit

FOB Price : Get Latest Price

Min.Order : 1000 Piece(s)

Payment Terms : T/T

SAA Quantitative Test Kit

FOB Price : Get Latest Price

Min.Order : 1000 Piece(s)

Payment Terms : T/T

CRP/ SAA Quantitative Diagnostic Kit

FOB Price : Get Latest Price

Min.Order : 1000 Piece(s)

Payment Terms : T/T

H-FABP Quantitative Test Kit

FOB Price : Get Latest Price

Min.Order : 1000 Piece(s)

Payment Terms : T/T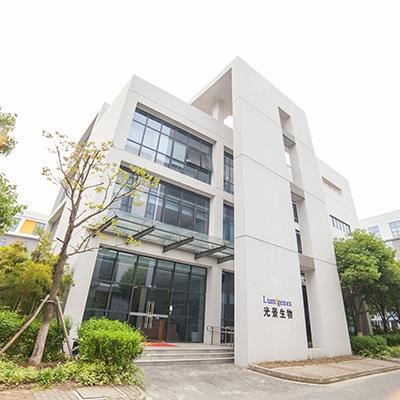 Lumigenex (Suzhou) Co., Ltd
Lumigenex (Suzhou) Co. Ltd. is a biotechnology company based on functionalized nanomaterials, including R&D and production of in vitro diagnostic products and infection control products and sales. We dedicate to the development of proprietary technologies that meet the ever increasing demands on clinical diagnostics. Lumigenex focuses on developing cost-effective rapid diagnostic products based on our patented Time Resolved Fluorescence Immunoassay (TRFIA) platform with primary areas of interests in cardiology, women's health, infectious disease, oncology and drugs of abuse. The self-developed time-resolved fluorescent immunoassay analyzer and its various POCT reagents have been improved in sensitivity and accuracy. The company has a 100,000-level cleaning-room. It also passed CE, ISO13485 quality control system certification, obtained Class II medical device and Class III diagnostic reagent production licenses, 26 product registration certificates, 16 authorized patents and 22 trademarks. Four global invention patents were obtained through strategic cooperation with Kimberly-Clark. Closely collaborating with our global strategic partners, Lumigenex is committed to becoming a worldwide leader in the fields of quantitative POCT. [Faith]
Attitude earns respect, innovation brightens future.

[Core Value]
Take the customers as the center, relying on the strivers, adhering to hard work for a long time.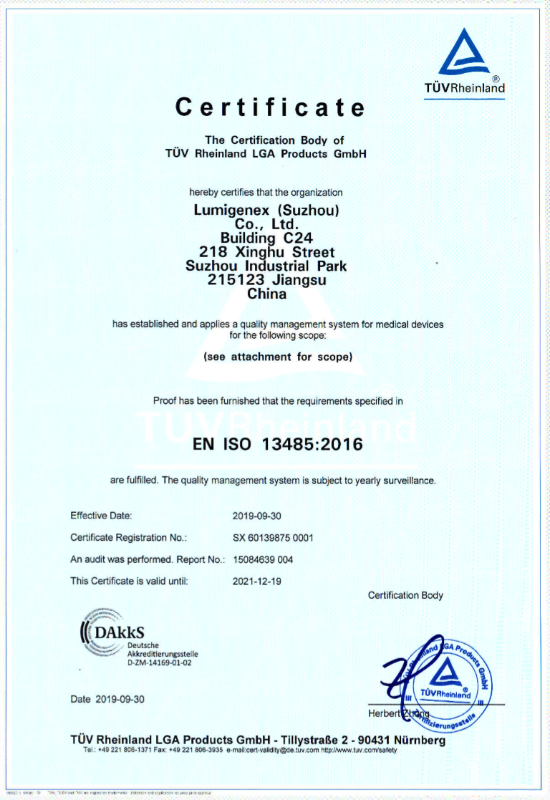 ISO13485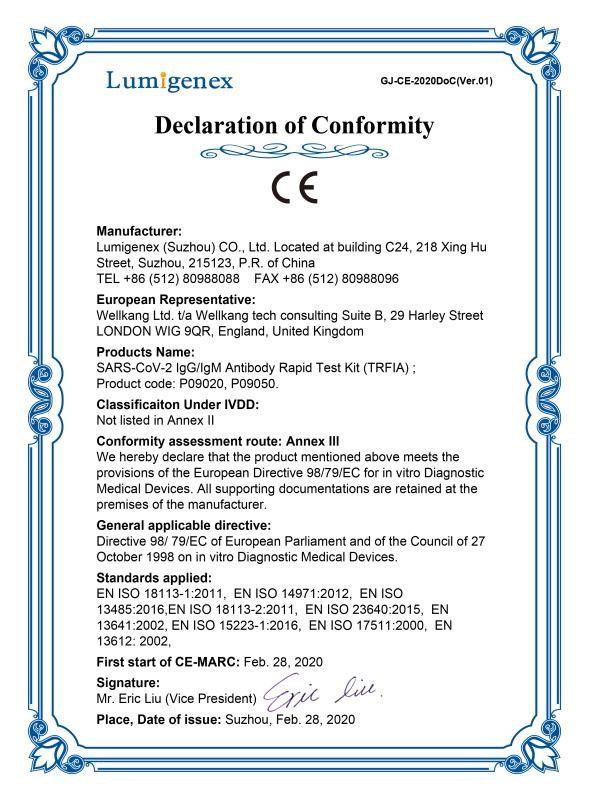 CE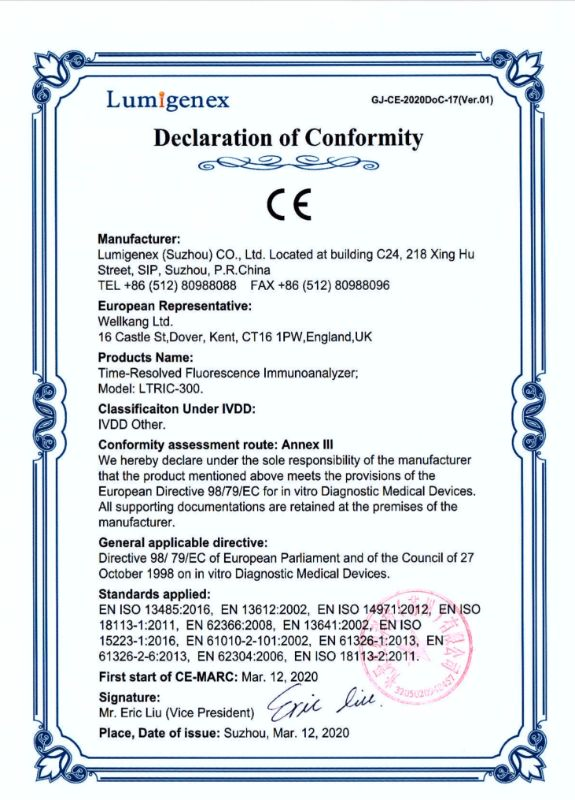 MHRA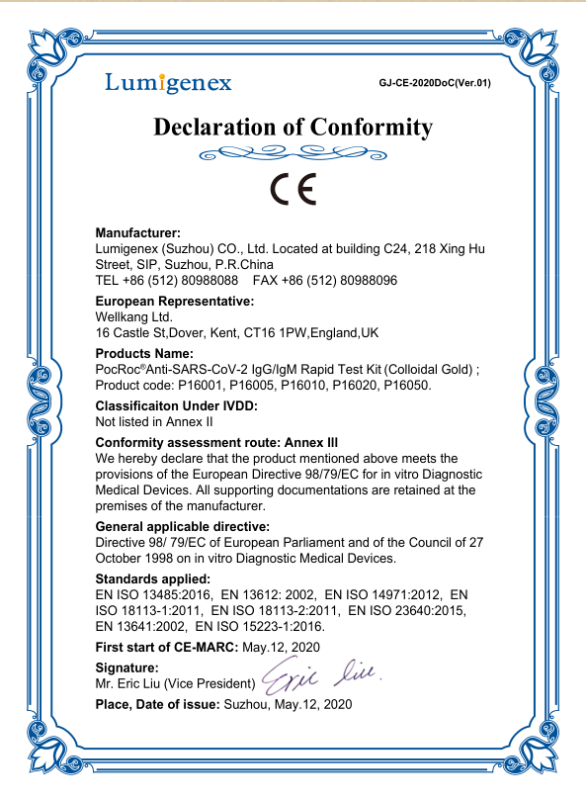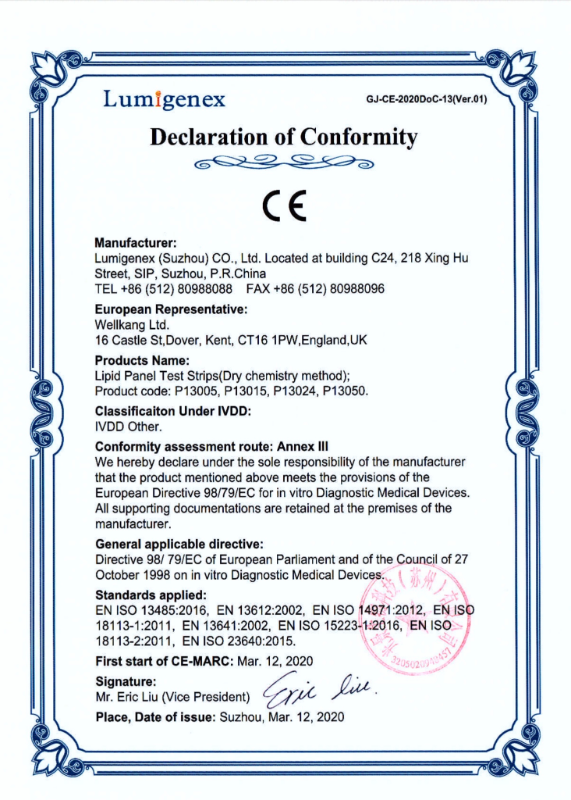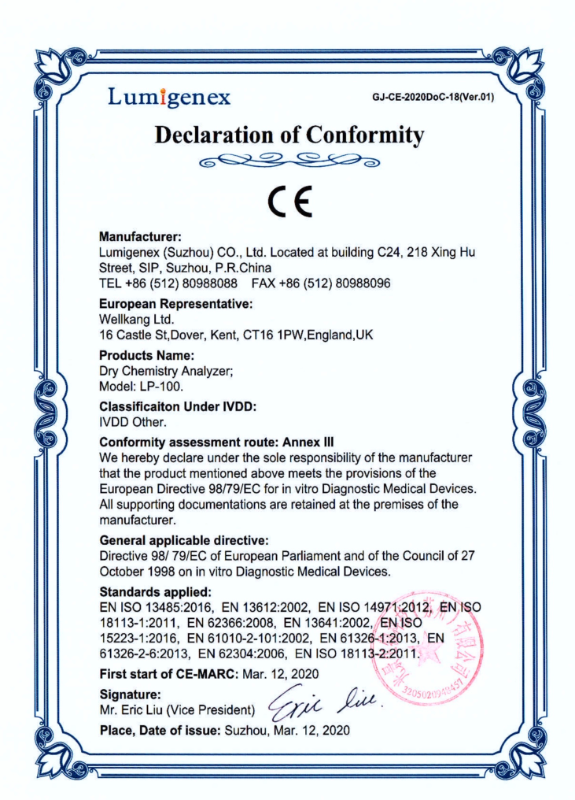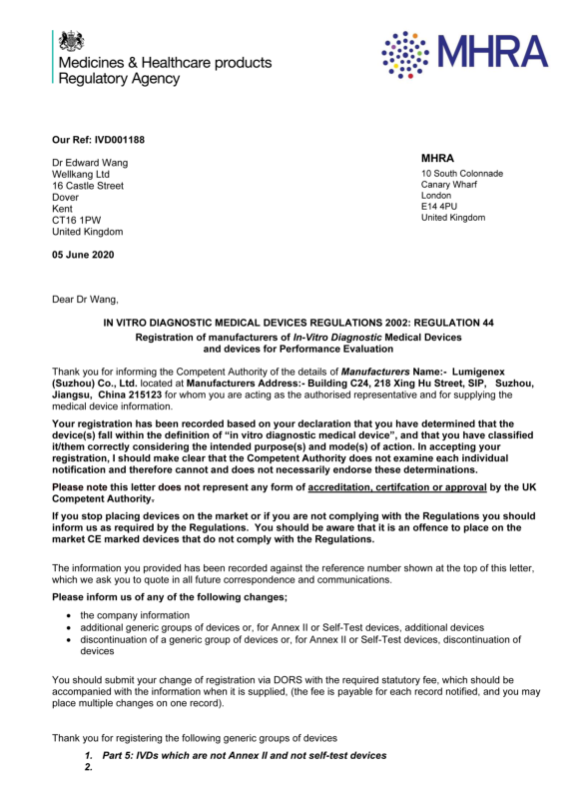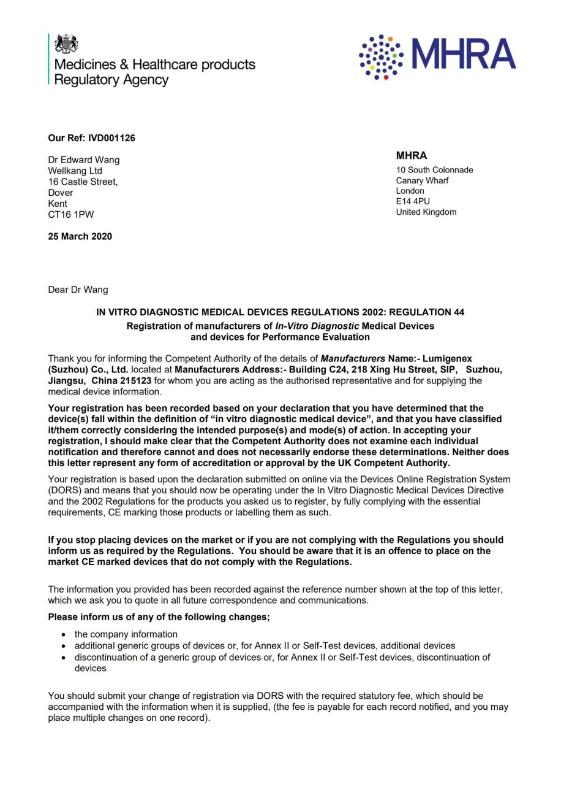 leave a message
phone :

view details

address :

Building C24, 218 Xing Hu Street, Suzhou Industrial Park, China, 215123.

postcode :

215123

website :

www.lumigenex.com